Technical Services  

injection molded parts
We help customers to master accurate data on materials and equipment, which is very important to improve product development, design analysis, and production process prediction and control. Our technical services integrate all valuable data, such as materials, process parameters, and scientific analysis, making it an important competitive power for your business.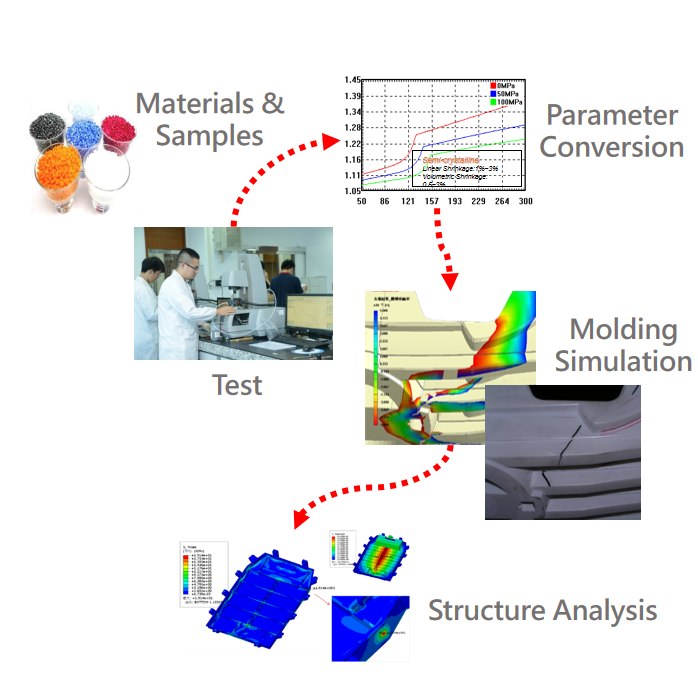 Material Data Laboratory
We have the resource support of a national material joint laboratory,

 and help customers establish high-quality material and equipment data through material testing and software services, which can be accurately used in product development, simulation analysis, and manufacturing process verification.

The material measurement laboratory is a critical department in material modification research and development, product design requirements, granulation production quality, mold design and development, and part molding production.
Molding Engineering Services
Provide a range of molding simulation analysis and Finite Element Analysis (FEA) solutions. Answers to many of your difficult questions during product design and question shooting of critical issues.
Product Collaborative Design
Assist product and parts customers to ensure product and parts quality meets standards from material selection, process requirements, experimental engineering (DOE), 3D rapid prototyping, and mold & part performance verification capabilities, so as to shorten the product development cycle and reduce product risk faced by product development.
Joint Office
 Shanghai, Suzhou, Kunshan, Ningbo, Dongguan, Shenzhen, Taipei, Southeast Asia, North America, and other places.